Quarry landscape
of the month
Quarry landscape of the month
August 2008: Cipollino Verde, Marmor Carystium, Evia, Greece.
The Cipollino Verde was one of the most popular coloured marbles of the Roman Period, and examples of use have been found in almost every corner of the Empire as far north as Britain. The production probably started in the 2nd Century BC and continued through the Imperial Period until the 7th Century AD. The Romans called it Marmor Carystium after the small town Karystos on the southern tip of the Island. The Cipollino Verde is an impure calcite marble containing bands rich in silicate minerals, particularly chlorite, alternating with more pure white and grey calcite-rich layers. The marble displays a lively pattern of folded and sheared layers, giving associations to waves in the sea. This was an important reason for its popularity, but also that it is technically strong and well suited for load-bearing columns. There are numerous ancient quarries on the island, many of them remarkably well preserved, and the quarry landscape is one of the least disturbed industrial landscapes of Antiquity in the Mediterranean. Several places, huge column rough outs are left in the quarries. The famous dragon houses of the area have by some researchers been interpreted as houses for the Roman legions guarding the quarrying activity. Several walking trails pass through the quarry landscape.
Text and photos by Tom Heldal.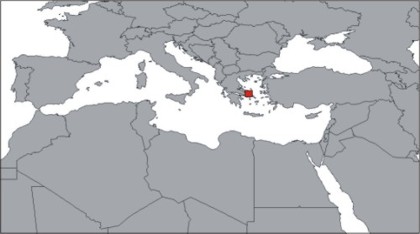 Location map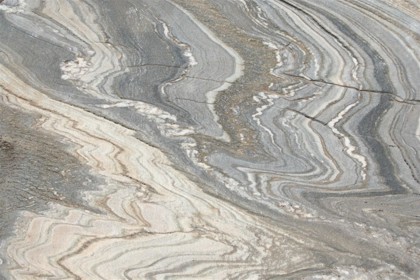 Outcrop of Cipollino Verde displaying the folded structure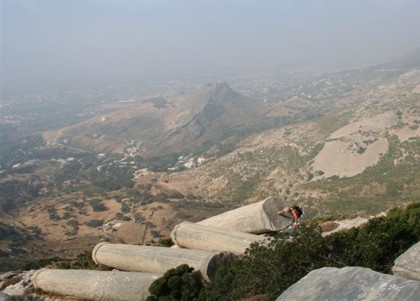 Giant columns still laying in the ancient quarries. View towards Karystos in the background.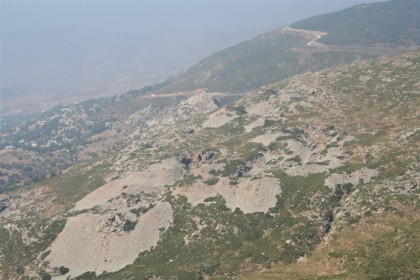 Truly a quarry landscape in the hills above Karystos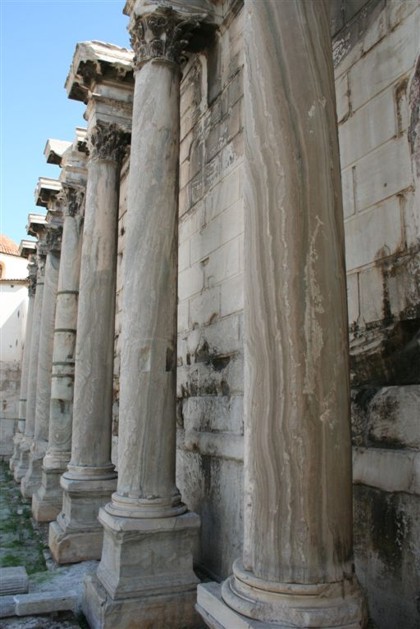 Columns of Cipollino Verde, Hardian's Libray, Athens