Quarry landscape
of the month
What are ancient quarry landscapes?
The acquisition of stone for tools, monuments, construction and objects of art has been an important activity throughout the history of mankind, and traces of such exploitation are found literally all over the Mediterranean region. Campaigns to acquire stone in antiquity, from thousands of local, regional and distant quarries were partly statements of an elite to key places of primary production of prestigious stone, but also as a mean for obtaining raw material for everyday construction and utilitarian products. Quarrying in ancient periods could influence large areas of land, sometimes counting tens and even hundreds of square kilometres, reshaping the natural landscape considerably and leaving remnants of roads, settlements, workshops and other signs of human activity, directly or indirectly linked to the extraction of stone. Hence, in addition to being "archaeological sites", these areas are "industrial landscapes" that have certain features in common, and that can be better understood using this perspective.
However, there are also major differences in between them; some may be closely associated to the construction of a town, representing local sources of raw material gradually being obliterated and hidden under the expanding town itself. In such cases, the quarrying represents a limited stage within the continuous development of an urban landscape. Others are preserved as "frozen" quarry landscapes, displaying one or few campaigns of exploiting prestigious stone in remote areas. Still others may have developed over thousands of years, displaying continuous extraction from prehistory to the present time. The geological landscape forms the background of any quarry landscape, where the distribution of the exploitable rocks and the morphology define the framework from which the human made features evolve: The meeting between quarrying technology, human organisation and geology creates unique landscapes.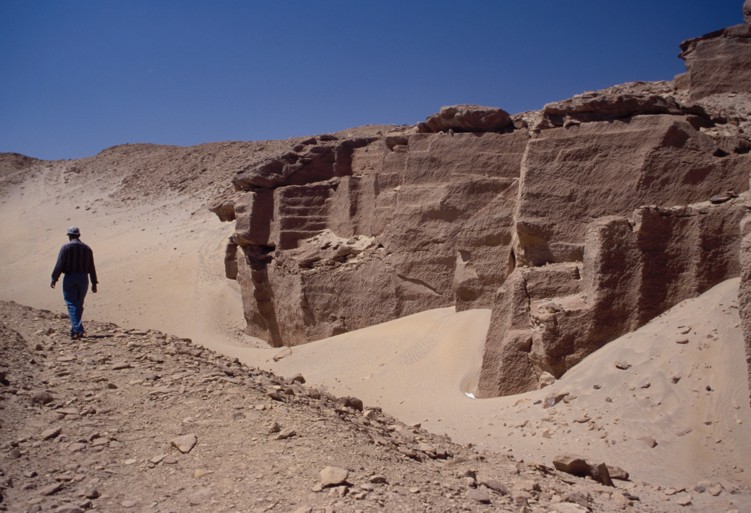 Quarry face in the sandstone quarries at Gebel el Silsila, Egypt. Photo by Tom Heldal.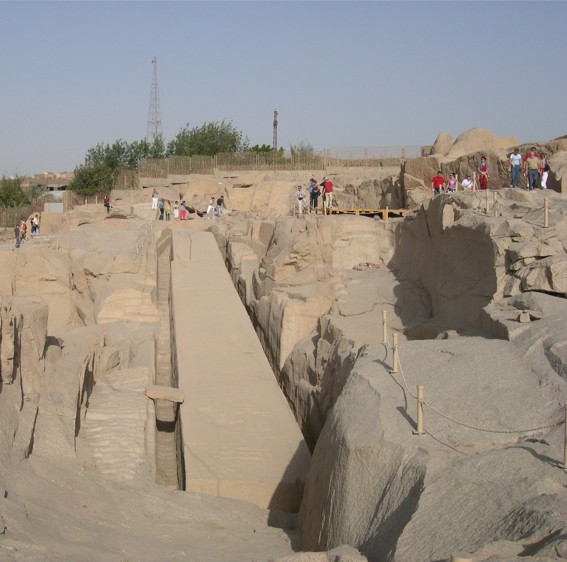 The world's most famous granite quarry? The 42 metres long "unifinished obelisk" in Aswan, Egypt. Photo by Tom Heldal.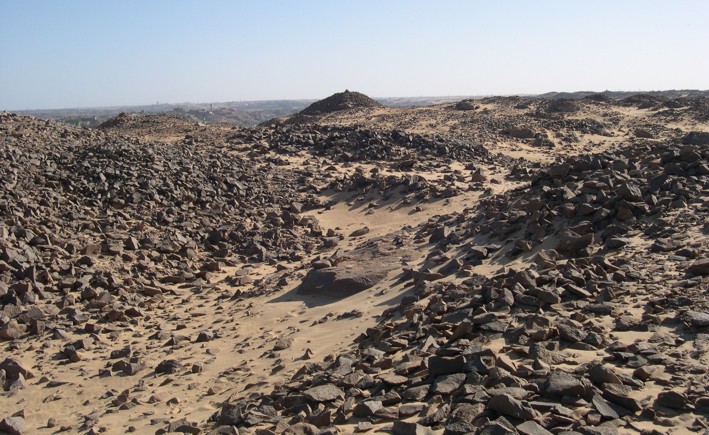 Ancient, industrial "wasteland". Spoil heaps in a grinding stone quarry, Egypt. Photo by Tom Heldal.