Quarry landscape
of the month
Quarry landscape of the month
June 2008: Marmor Triponticum, Pneunomusium, Occhio Di Pavone, Province of Izmit, Turkey.
This stone is a fossiliferous limestone composed of red, beige, rose or purple cement with circular or oval white shells (rudists), which brings to our mind the eyes of a peacocks tail. These types of limestones are commonly termed "Lumachella", due to the beautiful play of colours displayed by the rudist fossils. The ancient quarry is situated at Kutluca (ancient Bithynia) a village in the province of Izmit, Turkey. The limestone was probably introduced in Rome in the late Trajanic period and was quite widespread in Byzantine monuments of Constantinople and elsewhere, until the end of the 10th century. It was used as wall and paving slabs, columns, doorways, doorjambs and sarcophagi.
Text and photos by Lorenzo Lazzarini.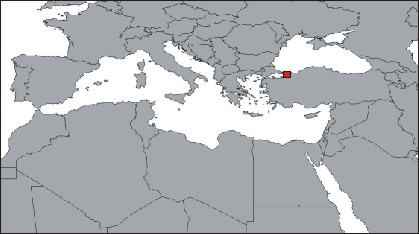 Location map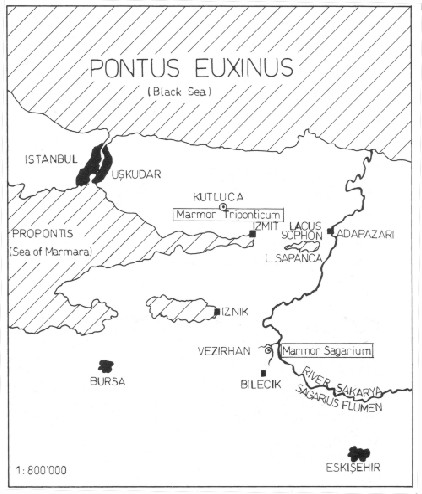 Detailed map showing the location of Marmor Sagarium and of Marmor Triponticum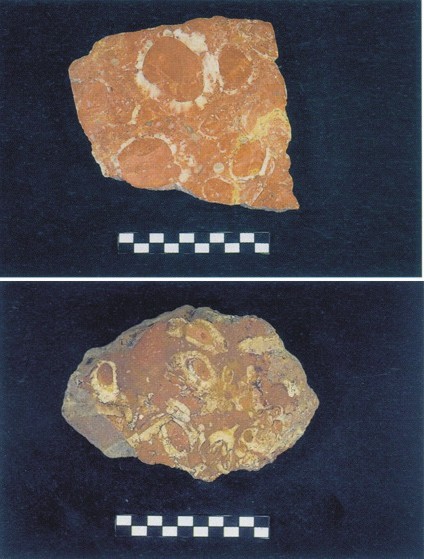 Macroscopic aspect of Marmor Triponticum. Top: sample of the occhio di pavone rosso from a marble workshop of Gebze. Below: sample of the occhio di pavone pavonazzo taken from the quarry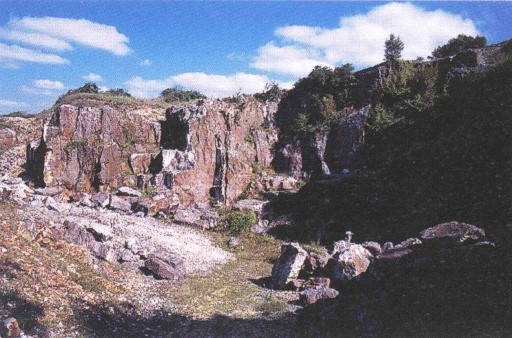 View of the great quarry of the beige variety of "occhio di pavone" near Kutluca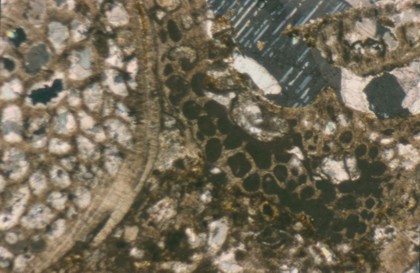 Photomicrograph of a thin section of the pavonazzo variety showing a section of rudist (left) in a matrix containing pellets. N+, 17X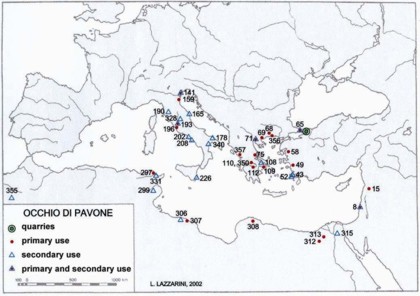 Map of distribution of Marmor Tripontium artifacts, each number corresponds to an ancient locality (for ref. see the relevant paper by L. LAZZARINI in forthcoming ASMOSIA VII proceedings)