Quarry landscape
of the month
Significance of ancient quarries
Ancient quarries are the 'forgotten' archaeological sites. A pre-occupation with monumental archaeological sites, particularly in the QuarryScapes project region of the Eastern Mediterranean, has consequently overlooked the significance of quarries, for example, as providing fresh insights into the lives of the non-elite in antiquity. Although ancient quarries are under acute threat from modern development, many still remain relatively pristine and most crucially, comprise sometimes rare evidence of settlements, roads and harbours – these are the 'ghost towns' of antiquity.
Often spanning a time depth over several thousand millennia, from the Late Palaeolithic to the Roman Period, the archaeological record in ancient quarries can inform about technological transformations in stone extraction techniques, the logistics of transport, sometimes over thousands of kilometres, and the social organisation of such activities. Within the totality of a quarry landscape, these landscapes can represent 'lived' experiences or the embeddedness of significance relating to ancestry, kinship and practices within the landscape, such as quarrying, played out over centuries. Such places have important implications which have not previously been integrated into arguments about stone symbolism, source and use.
Moreover, they can help in understanding the political and ideological backdrop associated with stone procurement and what drove it to such heights in antiquity.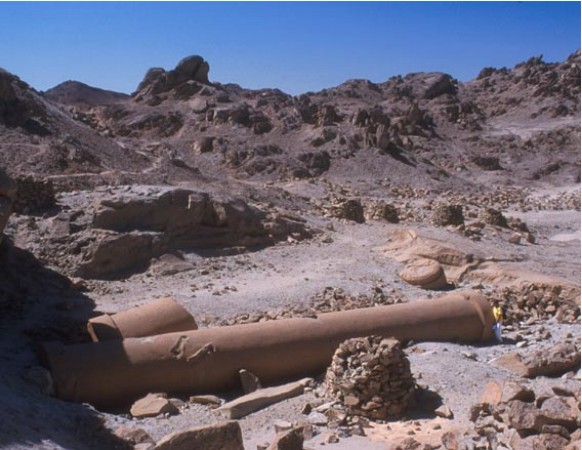 Giant columns left behind in a Roman granite quarry – the Mons Claudianus in the Eastern Desert of Egypt. Photo by Tom Heldal.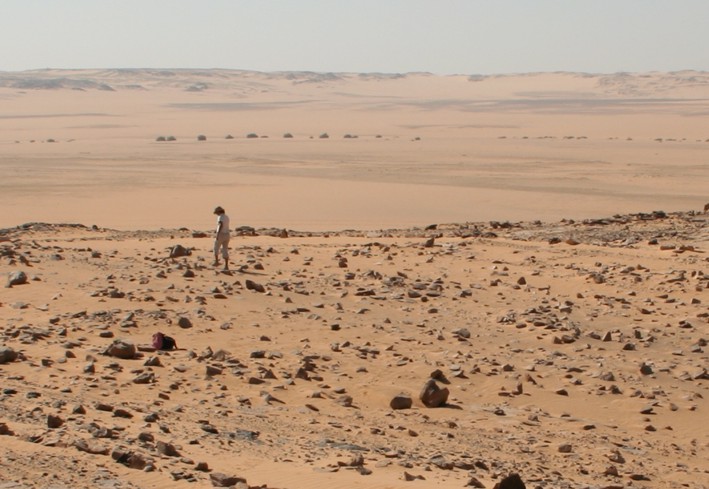 Unspectacular, but of great significance, are Palaeolithic quarries and workshops for production of grinding stone, Egypt. Photo by Tom Heldal.