Quarry landscape
of the month
Aswan Quarry Landscape (WP4): final season
Two previously undocumented New Kingdom paved roads were discovered in the silicified sandstone quarries during this short reconnaissance season. These findings add further to the significance of the West Bank quarries as constituting one of the world's largest known networks of quarry roads dating to the 2 nd millennium BC. Logistically, a clearer picture is emerging into the importance of these early roads in demarcating the best routes to the Nile, particularly as the later Roman Period roads often tend to lie alongside them. These intricate road networks connect the quarries of Gebel Tingar to the south with those of Gebel Gulab in the north and finally with a Nile terminus. Naq el-Gubba, now subsumed under the Nubian villages close to the prominent Nobel tombs, may have been one such embarkation point on the Nile.
New Kingdom quarrying probably for high status small objects such as statuettes was discovered in the southernmost quarries of the survey area, close to the High Dam. Targeting the purple variety of silicified sandstone, the New Kingdom quarrymen seem to have gathered locally occurring granitic and dioritic cobbles to use as tools. The significance of these tools, which occur in unusually high quantities and in a range of sizes in the quarries, is that they are unlike the largely prefabricated tools found in the majority of the other West Bank quarries. This evidence could imply a local aspect to the labour force, who possessed an intimate knowledge of the value of gathering more easily accessible and naturally occurring stone tools which required little shaping.
Text by Elizabeth Bloxam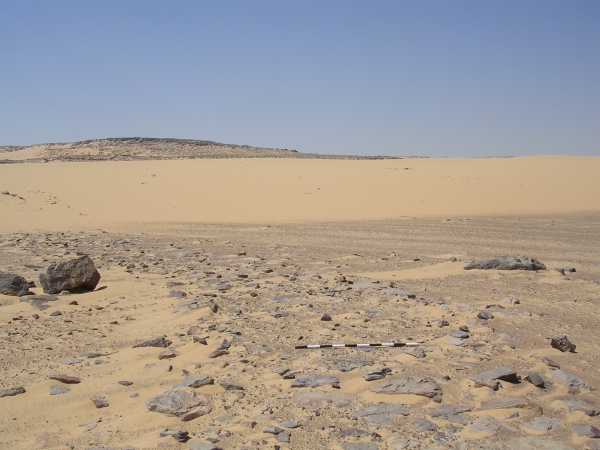 New Kingdom paved quarry road at Gebel Sidi Osman 3, West Bank Aswan, March 2007. Photo: Elizabeth Bloxam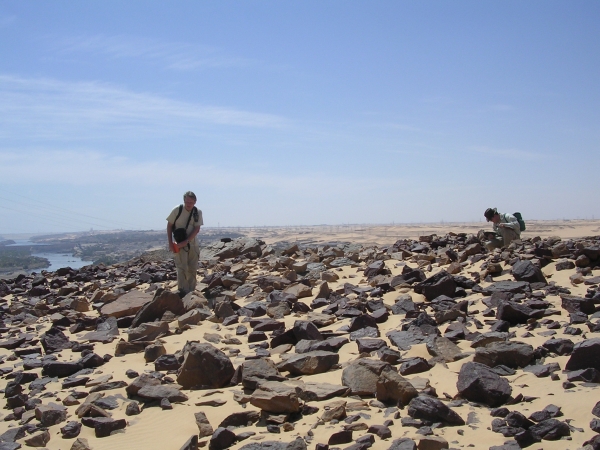 Tom Heldal and Patrick Degryse working in the Southern Quarries, West Bank Aswan, March 2007. Photo: Elizabeth Bloxam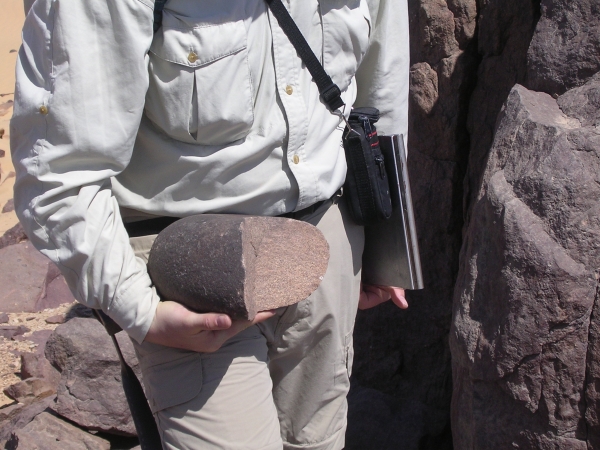 Stone pounder from natural occuring cobbles: Southern Quarries, West Bank Aswan, March 2007. Photo: Elizabeth Bloxam
Chephren's Quarry (near Abu Simbel) in the Western Desert of Lower Nubia: monitoring and risk assessment (WP5)
There seems to be a temporary reprieve from destruction for Chephren's Quarry, one of the world's oldest statue quarries, from the giant Toshka Hydrological Project [see link to overview of Chephen's Quarry]. Construction of Canal 4, which posed the biggest threat to the quarries and mines, was going full steam ahead between 2003 and 2004 but now seems to have temporarily ceased. Although this is good news the risk to Chephren's Quarry still remains high, once work resumes, if the sites are not put under protection. However, such mega-construction projects are not the only threat to these remote ancient quarries, it can also come from the more benign phenomenon of 'desert tourists'. In ever increasing numbers, desert tourists pose an imminent threat by looting archaeological sites in the region. We received news that Nabta Playa (one of the world's most important Neolithic sites) 50 km west of Chephren's Quarry, is being seriously looted from such passing tourists. Chephren's Quarry is not immune, as we discovered during our monitoring season, some tourists had 'collected' pottery (in 2006) from one of the few settlement areas and placed it in 2 boxes. Apart from being illegal, and duly reported to the Supreme Council of Antiquities (SCA), this action has taken important ceramic evidence out of context. This could be just a taster of what may lie ahead for such remote archaeological sites and once more highlights the enormity of the challenges that have to be faced in protecting them.
Text by Elizabeth Bloxam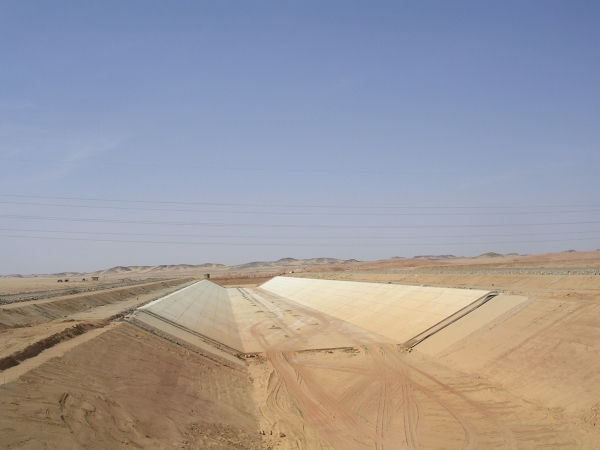 Partially completed canal close to Chephren's Quarry, March 2007. Photo: Elizabeth Bloxam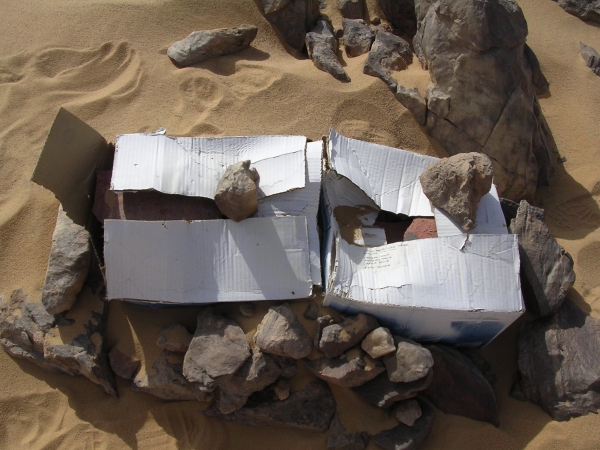 Pottery collected and put in boxes by 'desert tourists': Quartz Ridge, Chephren's Quarry, March 2007. Photo: Elizabeth Bloxam