Quarry landscape
of the month
ANCIENT TUFF QUARRIES IN AKSARAY (CAPPADOCIA, TURKEY)
Agzikarahan is an important 13 th century caravanserai belonging to the Seljuk period, located some 15 km north-east of Aksaray close to Cappadocia in Turkey. The monument consists of two parts: a square courtyard surrounded by semi-open spaces, and a fully-enclosed space of rectangular plan. The closed part of the monument consists of five naves lined up next to each other. The semi-open spaces are lined up along the three sides of the courtyard while the fourth one on the north side has the entrance (portal) opening to the closed section of the building. Located at the centre of the courtyard is a kiosk masjid. The main entrance (portal) to the building is on its west side, opening to the courtyard. There is a watch room at the top over the south side of the semi-open space, which can be reached by a staircase placed at the south façade in the courtyard. Walls are constructed with rubble stone infill, faced with ashlars of ignimbrite tuff both inside and outside.
The tuff quarries of Agzikarahan were found to be in Saratli village located at about 7 km south-east of the monument. The Saratli ancient quarry is within the settlement area of the Saratli village, but modern construction activity has not yet commenced in the quarries. Current QuarryScapes investigations and its registration as an ancient quarry related to Agzikarahan caravanserai could be an important added historical attraction, and may aid its protection. The work in QuarryScapes also includes a detailed characterization of the stone.
Text and photos by Emine Caner-Saltik and Goze Akoglu.

View of ancient tuff quarry in Saratli-Aksaray (Capadoccia-Turkey). Quarry for the tuffs used in Agzikarahan caravanserai. The type of the tuff is ignimbrite. (Click to get a bigger picture.)

Another view of the tuff quarries. (Click to get a bigger picture.)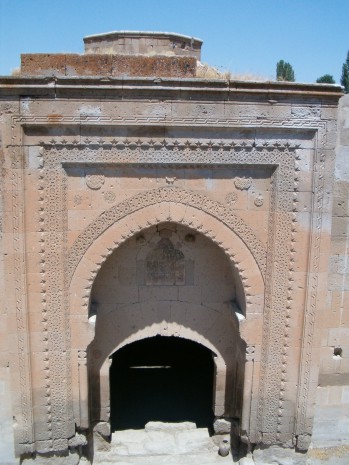 Agzikarahan, a 13 th century Seljuk caravanserai, with the portal opening to the closed part of the monument.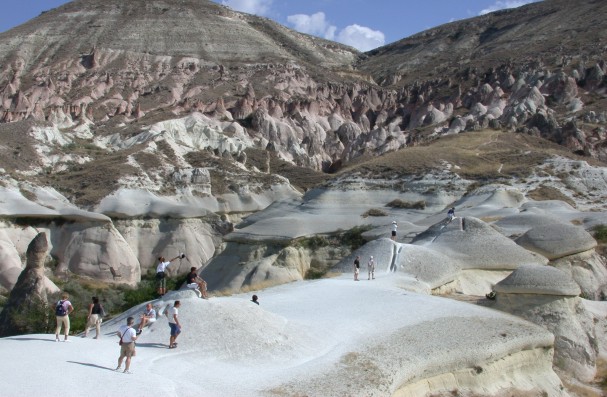 View of the tuff landscape in Cappadocia