Quarry landscape
of the month
Quarry landscape of the month
May 2006: Vezirhan breccia quarry
This rock is a monogenic calcareous breccia quarried in ancient Bithynia, near Vezirhan (Bilecik, Turkey) and not far from the important river Sagarius (now Sakarya) that gave the name to the
stone. The breccia consist of angular, white-rose clasts of varying size resting in a compact matrix, of which there are several chromatic varieties; pink, bright coral red (hence the name breccia corallina) and brown. The stone was probably introduced to Rome in late Augustan times, and was used until the end of the Empire, predominantly for medium-sized columns, tondi, wall and paving slabs, etc. The quarries are well preserved and display frequent marks from the ancient quarrying techniques on the vertical quarry faces.
Text by Lorenzo Lazzarini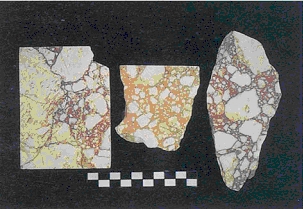 Breccia corallina, samples from the quarry of Vezirhan. Photo by Lorenzo Lazzarini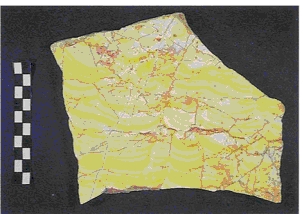 Fragment of the slabs of breccia nuvolata facing the Serapeum of Leptis Magna. Photo by Lorenzo Lazzarini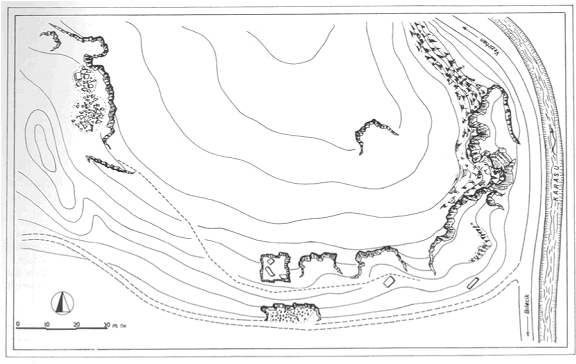 Topographical sketch of the quarries of Vezirhan.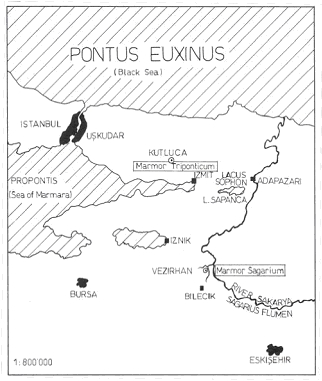 Location map