Quarry landscape
of the month
Quarry landscape GIS
A Geographical Information System is a combination of related computer software, hardware, data and personnel to help manipulate, analyze and present information that is tied to spatial location. With GIS, information attributes can be linked to location data, such as people to addresses, buildings to parcels, or streets within a network. The information is processed into layers helping to visualize spatial data. A particular combination of layers can be selected according to the information needed. The emergence of GIS technology can be traced back to 1960's but it has been in practical use in Egypt for the last two decades. Lack of data and its inconsistency as well as general unwillingness to share information are still common limitations to the national spreading of the technology.
An important part of the EAIS's participation in QuarryScapes is to explore practical methods for optimizing design and production of GIS products especially suited for the management of ancient quarry landscapes. QuarryScapes will implement the GIS technology for the processing of several Work Packages' (WP) outputs. Generally the GIS work will be done using ESRI's ArcGIS software and will be carried out in close interaction with the other Work Packages in Egypt. It might also develop as a model for displaying other QuarryScapes datasets and even for quarry landscape GIS in general.
The GIS data from each of the investigated quarry sites in Egypt will be identified, analyzed and the presentation of their common features unified. These will be categorized into relevant datasets to facilitate the ultimate utilization of the data in site management plans, conservation, monitoring of risks, etc. Finally, standard visualization schemes for each of the identified datasets will be developed.
The visualized datasets alone will not truly convey the relation of the quarry features with their real location. Therefore, the datasets need to be overlaid on a series of background maps that will reflect the changes in the surrounding landscape. The use of backgrounds that date to successive periods will demonstrate the extent and direction of urban expansion and how the development might affect the quarry sites. Based on the availability of the backgrounds, the scale will vary from general scales (1:50,000 Topographic maps) to detailed recent satellite images (1 meter accuracy).
In addition to the datasets of the investigated quarries, EAIS will compile a national quarry map of Egypt, displaying all known ancient quarries in the country. The data for the map will be collected from different sources, including other WP's within QuarryScapes and archaeological missions. This national map will be of great value for general land management planning, awareness raising and forming a future strategy for documentation of such sites in Egypt. The QuarryScapes intends to publish an Atlas of ancient stone quarry landscapes.
Text by Rawda M. Yousri
The site is included in work-package 7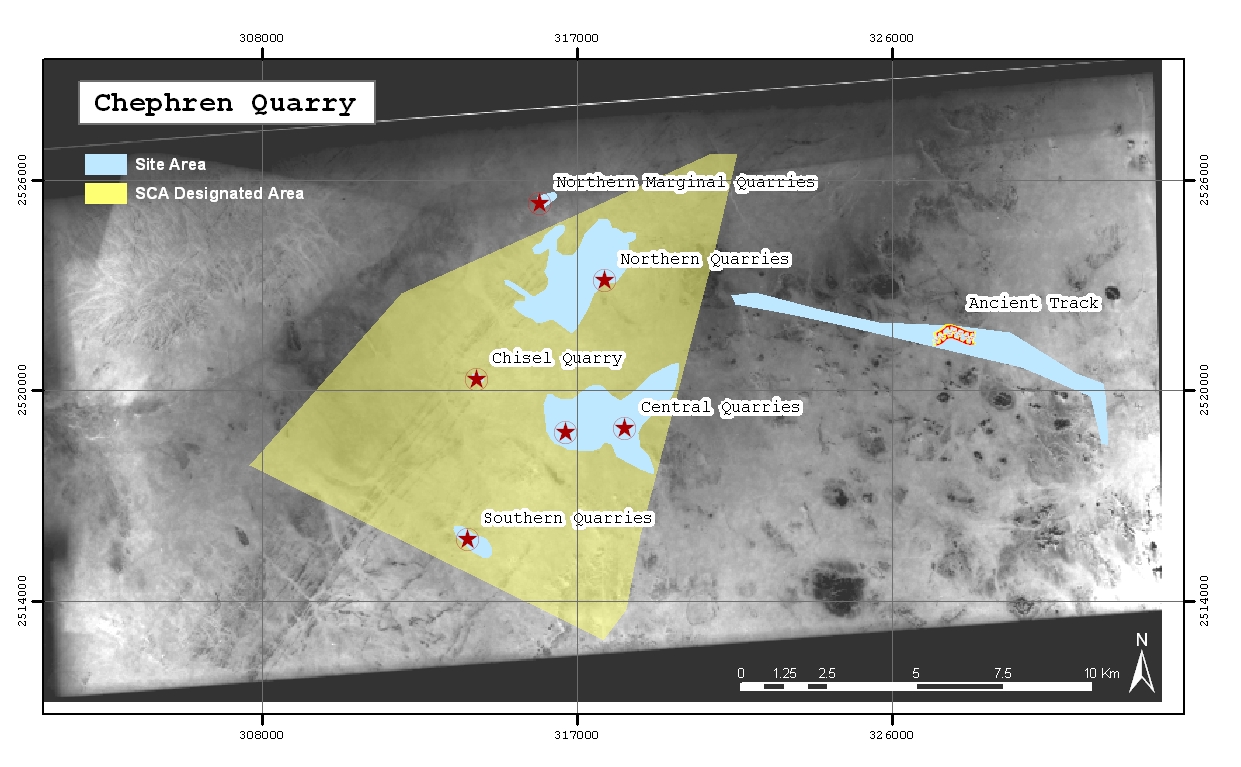 Site map of the Chephren's quarry landscape, displaying ancient quarry areas and transport route (blue) and areas designated to protection (yellow). (Click on map to maximize). © EAIS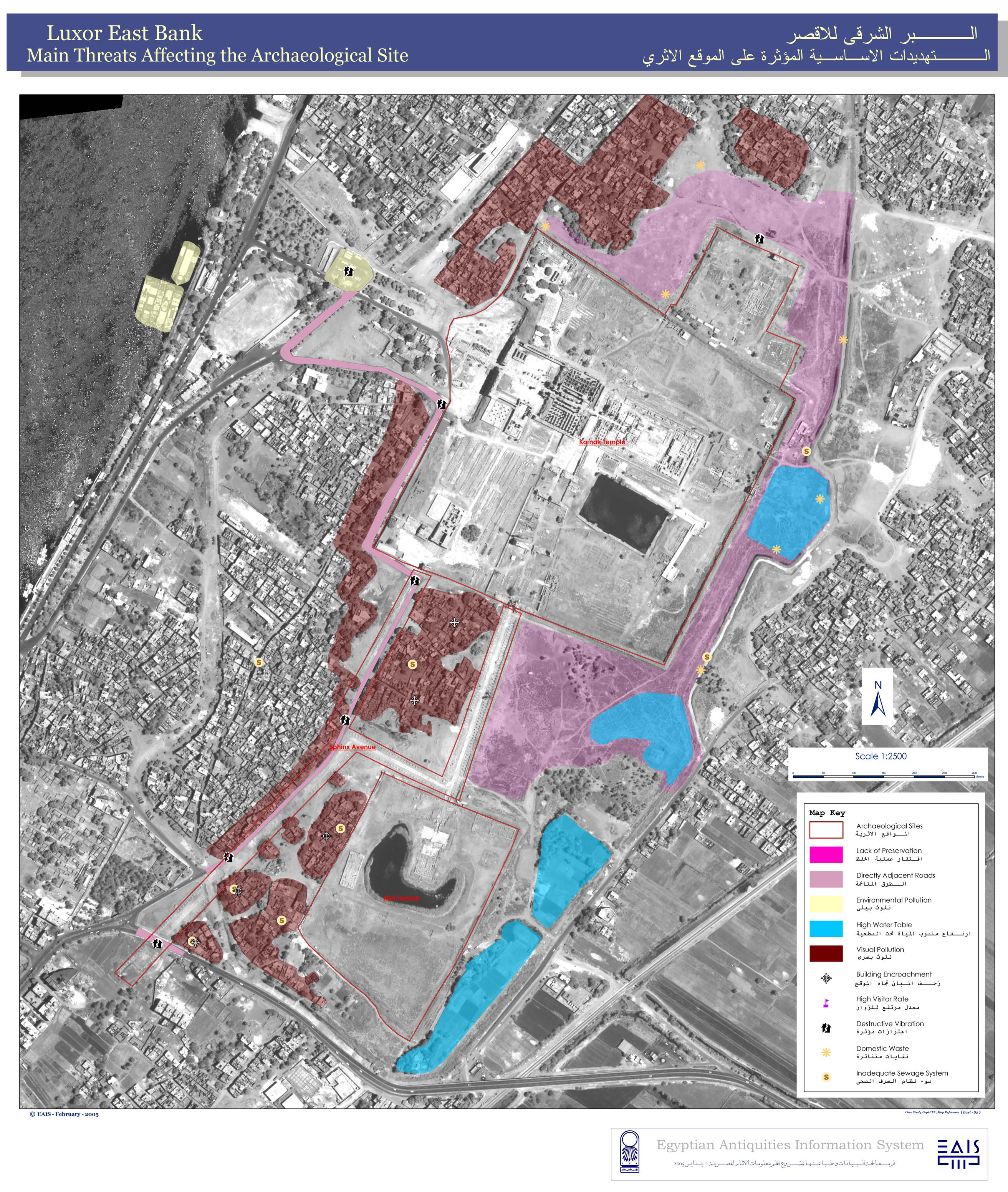 Threats to the site of the famous Karnak Temple, Luxor. Example of risk map. (Click on map to maximize). © EAIS