Quarry landscape
of the month
Fieldwork in the Northern Faiyum desert.
A survey season involving several ancient quarry landscapes in the Northern Faiyum desert, southwest of Cairo, was carried out between March 14 th and April 1 st . The survey focused on detail mapping and characterization of the Widan el Faras basalt quarry and the Umm es-sawan gypsum quarry, both from the Old Kingdom Period, and issues related to threats to these sites by modern development. Several new quarry sites were also discovered, including quarries for flint tools.
Northern Faiyum survey team, behind from left: Elizabeth Bloxam (UCL), Emily Cock (EAIS), Ahmed Rabia Amin (EAIS), Sayed Awad Mohammed (SCA Faiyum), Said Mohammed Mostafa (SCA Faiyum), Mr. Riffaed (police inspector), Per Storemyr (NGU), Mohamed Hamed Mohamed (Inspector SCA). In the foreground: Mr. Sadawi (police inspector). Other participants, not present in the photo, were Patric Degryse (KUL), Ashraf el-Senussi (SCA) and Tom Heldal (NGU). Photo by Tom Heldal.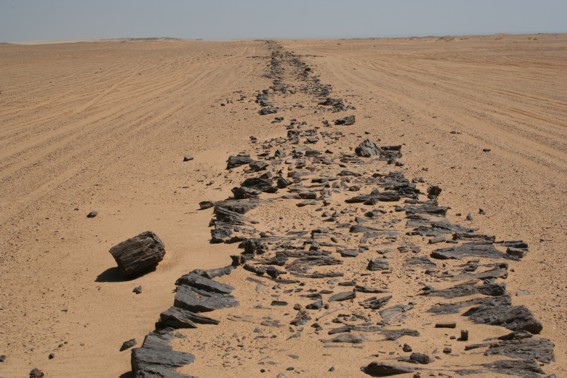 Section of the eleven kilometres long ancient quarry road made for transporting basalt blocks from the Widan el-Faras quarry, paved with "logs" of petrified wood. Photo by Tom Heldal.