Quarry landscape
of the month
QuarryScapes Kick-off meeting in Cairo
The official kick-off meeting of the QuarryScapes Project took place at the Flamenco Hotel in Cairo January 31 and February 1 2006. The First day of the meeting was dedicated to presentations from the consortium members of the different work-packages, whilst information about management issues and the first Project Executive Board meeting took place on the second day. The Project Executive Board was elected with the following members:
Coordinator: Tom Heldal (NGU);
Work Package Leaders (WPLs): Nizar Abu-Jaber (YU), Emine N. Caner-Saltik (METU), Patrick Degryse (KUL ), Elizabeth Bloxam (UCL), P er Storemyr (NGU), Hagar Rakha (NSCE), Naguib Amin (SCA/EAIS )
Other Representatives: Lorenzo Lazzarini (IUAV)
Secretary: Cyprien Habimana (NGU)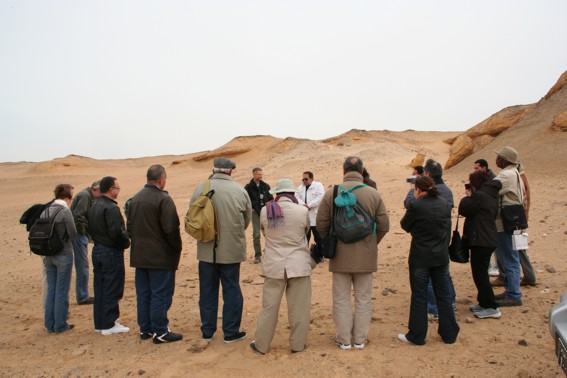 A pre-meeting fieldtrip to the ancient quarries of Um es-Sawan and Widan el-Faras was arranged on January 30th, displaying for the consortium urgent needs for protection measures at one important quarry site. Photo by Tom Heldal.