Quarry landscape
of the month
Quarry Survey at Sagalassos, Turkey
The provenance of most of the building stones used in monumental Sagalassos, apart from imported marbles, is related to local lithological units both in the immediate vicinity of the city and on its territory. The purpose of this years quarry survey performed by Patrick Degryse (K.U.Leuven), Tom Heldal (Norwegian Geological Survey) and Elizabeth Bloxam (University College London) was to relate the quarrying of local stone on the territory to building projects in Sagalassos. Important research questions were to characterize the quarries according to the significance of the individual quarries and their role in the development of the city, the recognition of quarry related features, an investigation of the geological features of the individual quarries and questioning the relationship between volumes quarried and volumes used.
One quarry on the territory was studied in detail during this survey. The Sarikaya quarry is located 3-4 km southwest of Sagalassos near the village of Yesilbasköy. The stone type quarried there was used only in late Hellenistic buildings at Sagalassos and is not found in quarries elsewhere on the territory. This indicates that the quarry may have been one of the main suppliers of building stones during the late Hellenistic period.
The quarry survey was continued in the city of Sagalassos itself. As a first result, it can be said that the amount of ashlars used in the city is rather limited. Many structures in the city only have a façade of ashlars, and were for the most part constructed with tile, concrete or Roman concrete. Estimates of the volumes of stone extracted for sarcophagi and burial practices were also made and this would constitute a significant percentage of stone extraction vis-à-vis that for buildings. The keyword for the quarrying of limestone in the city area seems to be proximity ; in the immediate vicinity of important stone consuming activities, being construction or funerary use, there are quarries.
Text by Patrick Degryse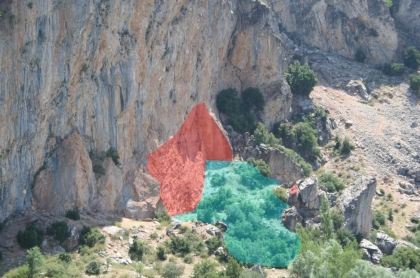 The Sarikaya quarry seen from the west. Quarry faces are marked with red colour, spoil heaps and work areas with blue. Photo by Patrick Degryse.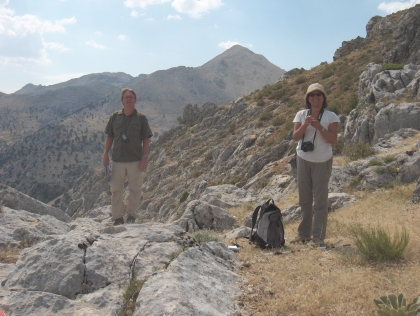 Tom and Elizabeth. Photo by Patrick Degryse.