Quarry landscape
of the month
QuarryScapes at conferences 2006
QuarryScapes has been well represented at international conferences in 2006. Various partners have presented the project in Belgium, Puerto Rico (USA) and France.
In February 2006 the project was presented with case studies from Egypt at the first "Broadening Horizons" interdisciplinary landscape archaeology conference in Gent, Belgium. Presentations of themes associated to the project followed at the large 71 st Annual Meeting of "Society for American Archaeology" in Puerto Rico (USA) in April. In June QuarryScapes was represented with 5 lectures at the ASMOSIA international conference in Aix-en-Provence (France).
In the publication section all papers given are listed and many papers also have links to abstracts, which can be downloaded.
Text: Per Storemyr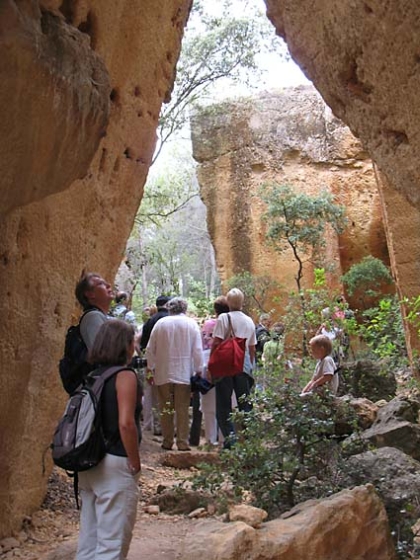 A private excursion to the famous Bibemus quarries in Aix-en-Provence during the ASMOSIA conference in June 2006. The quarry will soon be presented as a quarry of the month on the QuarryScapes website. Photo: Per Storemyr.