Quarry landscape
of the month
New department for conservation of ancient quarries and mines in SCA (Egypt)
In June 2006 the Supreme Council of Antiquities (SCA) established a new department for conservation of ancient quarries and mines in Egypt. The department is headed by Egyptologist Mr. Adel Kelany, inspector of antiquities, field director of the Unfinished Obelisk Museum in Aswan and now SCA supervisor for ancient quarries and mines. Mr. Kelany is a key member of QuarryScapes, and the project is very grateful to SCA and its Director General Dr. Zahi Hawass for the establishment of the new department. In the years to come it might become a key element in conservation and promotion of ancient quarries and mines in Egypt, and thus it will further the project work of QuarryScapes.

The new department will work in close cooperation with the regional SCA offices and special training programmes for Inspectors of Antiquities will be carried out in order to enable the regional authorities to tackle inventory, documentation, risk assessment and management of the ancient quarries and mines. Moreover, as a main risk is modern exploitation in areas with ancient quarries and mines, an important goal of the new office is to cooperate with modern extraction companies in order to reduce the risk of destruction and raise the awareness among the companies of the archaeological importance of the ancient sites. Also, in some cases modern extraction companies might aid the heritage authorities in monitoring and protection.
Text: Per Storemyr, in cooperation with Adel Kelany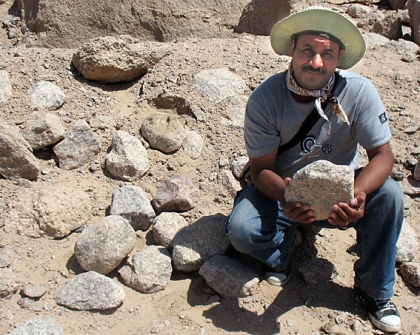 Adel Kelany with a collection of granite pounders in the southern granite quarries in Aswan. In these quarries modern exploitation has destroyed many old quarries, and it was here Kelany started his work on cooperating with modern companies in order to protect as much as possible of the old quarries. This work is still going on. Photo: Per Storemyr, April 2006.